History of The Big Pencil
21 March 2021 — under 1 minute to read
Whenever someone asks me about the bigpencil.net domain, I get to tell this story.
In 1965, my dad was a business major, finishing up his senior year at The University of Georgia (ɢᴏ ᴅᴀᴡɢs).
Things were going well for Dad. He had just accepted a job with IBM in Atlanta. He was excited and wanted to share this success with his advisor. So he headed to North Campus and the professor's office.
Dad was not prepared for the reaction.
"You're doing what?? " exclaimed the advisor, eyes squinted and brow furrowed.
My dad replied, earnestly, "I'm going to be working at IBM. Computers really feel like they're going to be a big deal."
The advisor continued to stare at my dad. The silence was far from comfortable.
"Really? Do you know what a computer is?" He scribbled on a notepad, ripped off the top sheet, and slid it across the desk, and declared:
"A computer is nothing. But a BIG. PENCIL."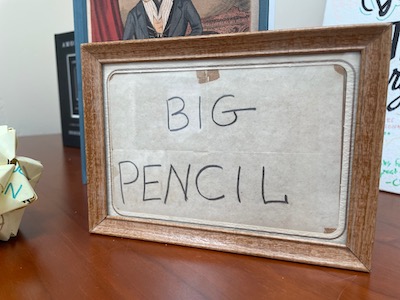 That note has been in this frame ever since.
---